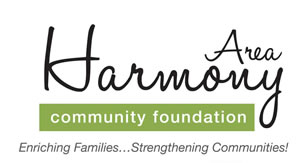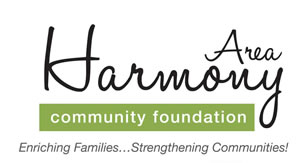 MISSION STATEMENT
To serve the Harmony area by supporting projects which improve the quality of life and build a stronger community.
OUR HISTORY
The Harmony Area Community Foundation was established in 2012 by a group of residents dedicated to improving Harmony's quality of life. HACF received its "seed" money from the former Trust for a Better Harmony, which was instrumental in building the Harmony-Preston bike trail and other large community projects. The trust has received several generous donations over the years – HACF is proud of this legacy and is excited to carry this torch forward!
OUR GOALS
Parks & Trails
Fillmore Central Schools
Public Library
Arts & History
Health & the Environment
Community Support and Growth
Over $90,000 for numerous projects since the fall of 2012
2012
$10,000 Selvig Park improvement ($5,000 SMIF matching)
2013
$2,000 Fillmore Central laptop initiative ($2,000 initial SMIF grant)
$500 Fillmore Central Monster Bash/music department
2014
$8,795 Selvig Park equipment loan
$1,220 Community Center basketball backboards
$15,000 Fillmore Central electronic signage
$2,000 July 4 Children's Carnival at Selvig Park
$2,200 Harmony Area Historical Society room improvements
$6,000 Fillmore Central preschool scholarships ($3,000 SMIF matching)
$3,500 Community Garden
$800 Buddy Bench for parks
$6,000 School Readiness technology ($3,000 SMIF grant)
2015
$1,525 Fillmore Central art department—-clay recycling pug mill
$2,000 Harmony Area Chamber of Commerce—July 4th celebration
$1,000 Miss Harmony Scholarship Pageant
$1,000 Monster Bash
$4,000 Early Childhood Reading Readiness Curriculum ($2,000 SMIF grant)
2016
$2,000 July 4 Celebration Festivities
$ 500 Senior Activity Programming
$4,000 Student Internship ($2.000 SMIF grant)
$5,000 Monster Bash
$ 200 Fillmore Central Backpack Program—Essence of Harmony
$ 300 Empty Bowls—Essence of Harmony
$ 300 Special Olympics—Essence of Harmony
$ 500 Food Shelf—Essence of Harmony
2017
$10,000 Harmony Area Historical Society SMIF Community Collaboration
$2,000 Chamber of Commerce 4th of July
$965 Chamber of Commerce PA microphone and speaker set
$200 Art Sculpture—Essence of Harmony
$3,000 Mini Falcon Playscape
$11,500 Harmony Helipad
$4,000 Student Internship ($2.000 SMIF grant)
$500 Empty Bowls—Essence of Harmony
$500 Fillmore Central Scholarship Fund—Essence of Harmony
$300 Fillmore County Special Olympics—Essence of Harmony
$200 Preston Library Youth Program—Essence of Harmony
2018
$11,500 Harmony Helipad
$5,000 Harmony Public Library matching funds for patio
$2,000 Harmony Public Library patio
$2,785 Harmony Area Historical Society for computer and software update
$2,000 Golden Happenings-Senior Activity Programming
$2,000 Monster Bash- Exit signs and other electrical needs
As of February 2018, HACF has assisted in providing total project funding of $129,290 with $100,290 from HACF funds and $29,000 matching SMIF funds. We also have a $15,000 pending grant to the Fillmore Central School District for a football scoreboard for the football field located in Harmony.
Thank you for your support.
You are making a difference in our community!
FOUNDERS CLUB
HACF is now establishing a Founders Club. This is one of the first steps in creating awareness and raising funds for the Foundation's endowment fund, as well as provides grant monies to be used towards approved focus area projects. Becoming a member of the Founders Club requires a minimum investment of $1,000. Pledges that are met within a 10 year timeframe are acceptable.
Please consider ways you may be able to become a part of the Founders Club: individually, part of an extended family, employees of a business, members of a service group or other organization.
CONTRIBUTIONS
If we all play together we can create a symphony to make our shared dreams happen within our community. Your contributions, like Notes on the Scale, can make our city's dreams come true. No matter what the size of your note is, you can help us make the music happen in Harmony! You may choose which note you want to contribute to make our dreams come true!
Whole Note

– $5,000 & up

half Note

– $1,000 – $4,999

Quarter Note

– $100 – $999

Eighth Note

– $5 – $99
How to make your donation:
On-Line

– Go to bit.do/harmony-community-fund
First, in the drop-down box, select Harmony Area Community Foundation.
Second, in the white text box, type FOUNDERS CLUB.

By Check

– Make check out to Harmony Area Community Foundation.
Mail checks to Harmony Area Community Foundation, PO Box 342, Harmony, MN 55939

Gift of Grain

– Click below to see how to donate grain to each cause.

Use the Contribution Pledge Card

– Download and print the brochure which includes the pledge card.
Please contact Chair, Vicky Tribon at 507-886-1970 or vtribon@harmonytel.net or Treasurer, Steve Donney at 507-886-2304 or stdonney@gmail.com with questions.
Your contribution is tax deductible due to our 501©(3) status with the Southern Minnesota Initiative Foundation.
HACF Grant Policy Procedure
Grant Applications should be received at least two weeks before regularly scheduled quarterly meetings. Applications will be sent to board members for their review- any concerns should be forwarded to the President who will then share with the applicant. Applicant will be asked to attend the scheduled meeting to present their application and to answer any questions.
Grant requests will wait for our regularly scheduled quarterly meetings.
Grant Requirements must meet our mission statement- "To serve the City of Harmony and it's surrounding area by supporting projects which improve the quality of life and build stronger communities"– and have ongoing community benefits and generally considered a one time gap financing of a project.
Grant request voting to take place after applicant's presentation and applicant has been dismissed.
Secretary will notify applicant within 48 hours of board's decision.