Coffee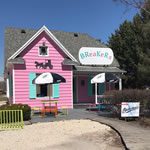 Description:
While you're biking the Root River or Harmony-Preston Valley Trail, stop in for a cool drink, smoothie, malt or sundae. We are located in the quaint Victorian pink and green cottage.
Description:
Hungry for a home-cooked meal? We are located in downtown Harmony and offer a full line of breakfasts, omelettes, homemade cinnamon and dinner rolls, burgers and sandwiches, plus daily lunch specials with real mashed potatoes, vegetables and salad. We also offer homemade soups and are known for our pie!
Description:
Hot Food – Variety of sandwiches, appetizers, pizza by the slice or whole pies, bananas, potatoes and onions. Top Tier Fuel.