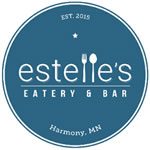 Description
Welcome to Estelle's Eatery & Bar in Harmony located right next to the Visitors Center! We are focused on being a scratch kitchen with a menu that will rotate according to the seasons. We also have many different craft beers available on tap and in the bottle or can. Estelle's does have a full bar, so come on in for a bite to eat and a drink!
Description
An American Bar & Eatery, On the Crunchy Side features one of the most unique and authentic dining experiences available anywhere. Come and enjoy a hearty meal, then satisfy your hunger for entertainment with live music, dances, darts, pool, and a variety of other activities. The bar prices are quite exceptional.
Street
25 center st. east
Description
Pams Off Sale Liquor. Full selection of wine, beer, spirits.